ORGANISATION CHART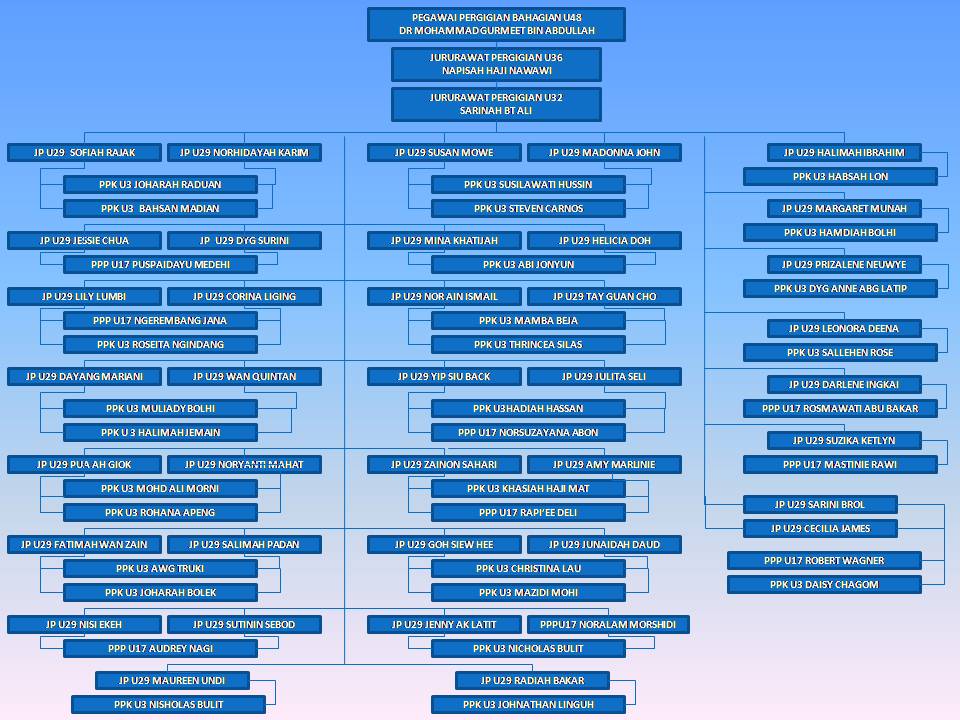 The followings are schools which have school dental clinic:
SK Abang Ali
SK Perbandaran No. 2
SK Perbandaran No. 3
SK Perbandaran No. 4
SJK Taman Rejang
SJK Methodist
SJK Chung Hua
SJK Sacred Heart Chinese
SJK Uk Daik
SJK Tung Hua
SK Sacred Heart Eng.
SK St. Rita
SJK Ek Thei
SJK Dung Sang
SJK Guong Ann
SK Batu 15
SJK Thai Kwang
SJK Su Lai
SJK Chung Sing
SJK Yee Ting
SK St. Francis Xavier
SMK Rosli Dhoby
SMK Sacred Heart
SMK Kanowit
Apart from the dental clinics in the schools stated above, we also have mobile dental squads. The mobile dental squads ultilise the "outreach" concept involving the set-up of temporary dental clinic in schools with no permanent school dental clinic especially in the rural areas.
Photo Gallery
SK Abang Ali
SK Perbandaran No. 2
SK Perbandaran No. 3
SK Perbandaran No. 4
SK Perbandaran No. 4
SJK Taman Rejang
SJK Methodist
SJK Chung Hua
SJK Sacred Heart Chinese
SJK Uk Daik
SJK Tung Hua
SK Sacred Heart Eng.
SK St. Rita
SJK Ek Thei
SJK Dung Sang
SJK Guong Ann
SK Batu 15
SJK Thai Kwang
SJK Su Lai
SJK Chung Sing
SJK Yee Ting
SK St. Francis Xavier